Get to Know Us Better – Super Heat & Air
It's OK to Ask Questions!
Hey Greater Tampa Bay! We've covered a wide variety of topics on our blog from air conditioner maintenance to duct cleaning to dirty air filters and even holidays. So in trying to come up with new subject matter we got to thinking, "What questions should we answer for people who want to know more about us?"
Let's get started, shall we?
"How long have you been in business?"
Super Heat & Air was founded in 2015 by company owner Denis Nuhic. After working for many years for various air conditioning companies in the Greater Tampa Bay area, Denis didn't agree with the way his past employers were doing business. He felt customers deserved better. And Denis didn't like that the air conditioning business in Greater Tampa Bay was getting a bad rap. So rather than continue working for somebody else, he started his own company to do business the right way, and Super Heat & Air was born!
"There are many air conditioning companies in the Greater Tampa Bay area that have been around a lot longer than Super Heat & Air. Why should we hire you?"
Super Heat & Air may only be a couple of years old, but our technicians and customer service staff have many decades of combined experience in the air conditioning business! We do have a some hungry "rookies" on staff that are also looking to become the best in the business by working side-by-side with the best in the business today.
By the way, our experienced veterans used to work for those other companies that have been around longer than we have. So whom we have working for you is a talent pool of the best technicians and customer service staff those companies had to offer. They jumped ship to work for us for a reason! Because they, too, want to provide a better experience and service than what's currently being offered out there.
"Why is your address the same as the one listed for a company called SMART Efficient Solutions?"
We share the love. Super Heat & Air and SMART Efficient Solutions were founded around the same time as sister companies under the same umbrella. We now operate as separate entities. But we're all still friends and we all still love working under the same building. And we occasionally do business together!
"You say you're open 24/7, but your office isn't always open. Why is that?"
We're available on call 24 hours a day, 7 days a week. Super Heat & Air has designated a very dedicated and hardworking staff that has on-call phones available after office hours to handle your emergency AC service and repair needs! So it doesn't matter when your AC starts giving you problems. If you're in Greater Tampa Bay or beyond and we have to come to your rescue during late nights, holidays or the wee hours of the morning, we have people for that!
"Will you try to sell us a new air conditioner if we don't need it?"
Absolutely not. It's true that a big part of our business is the sale and installation of brand new AC units. But we're not the type of company that will try to sell you something you don't need. If your AC system is fine, we will tell you it's fine. If it needs repair, we will tell you what needs to be repaired. And if your system is an "Old Yeller" that needs to be put down, we will tell you you need a new one; educate you on why you need a new one; offer you a great deal on a brand new energy efficient AC system; and install it with the utmost professionalism and technical expertise we offer all of our customers!
If you don't need it, we won't sell it! We're not pushy salesmen trying to sell you something you don't need. And if we catch any of our guys becoming pushy salesman trying to sell people stuff they don't need, they will no longer be one of our guys, period.
"You offer a $29.95 maintenance special. How do you make any money off that?"
The simple answer is we don't. We offer the $29.95 maintenance special so you can see firsthand our friendliness and professionalism. We want you to choose us as your air conditioning service, so we offer it to earn your business and your trust. A big part of our success can be attributed to word-of-mouth. So by offering our maintenance special for practically nothing, we do a great job and make new connections. Even if you don't need us in the future, it still provides the opportunity for you to get to know us and recommend our services to others.
"What's this free second opinion thing you guys talk about?"
Unfortunately, it's very common in the AC business for shady people to make shady deals to get you to part ways with your money. We hate that! It gives our industry a bad rap. So we offer a free second opinion to anyone who believes a quote they received is questionable. Or if they believe they're being duped by another company. We'll come to your house, check out your AC system and give you an honest, free opinion about what you actually need.
We'll tell you free of charge what needs to be done and if you're being quoted too much by a competitor. And we encourage you to get a third opinion as well, because we always want you to make educated decisions. Of course, we hope you choose us as your AC service provider. But even if the first opinion came from us, we always encourage people to get second and third opinions for any kind of service and make the right choice. 
"You have mostly positive reviews, but there are some negative reviews out there about you as well. How do you handle those?"
Unfortunately in any business, you can't please everybody and negative reviews happen. But we don't make excuses. If we have an unhappy customer and a negative review pops up, we get on the phone with them immediately and make things right. And if we make a mistake, we own up to it. We're never going to sweep it under the rug. It's a cliche but our business was very much built on trust! And if we lose your trust, we lose our business. We would love to be able to have 5-Star reviews across the board, but our positive reviews far outweigh our negative reviews. Just look us up and you'll see for yourself!
"Your website boasts that you are Trane Comfort Specialists and Rheem Pro Partners. Are those the only two brands you service?"
Not at all. We service all kinds of residential and commercial air conditioning systems. But because of those distinctions, we get special pricing from those manufacturers. This allows us to offer better deals to our customers. Not every air conditioning company is a Trane Comfort Specialist or a Rheem Pro Partner. These are statuses that we earned from the manufacturers through excellent customer service and exceptional sales. And because we have earned those distinctions, we are able to give our customers the best deals on the latest high efficiency technology AC systems available today!
"Are you on Facebook?"
Why yes. Yes we are! We're also on Instagram, LinkedIn, Twitter, Pinterest, G+ and YouTube. Check us out and give us a Follow if you "Like". We're also on Home Advisor, Angie's List, Yelp! and many other websites.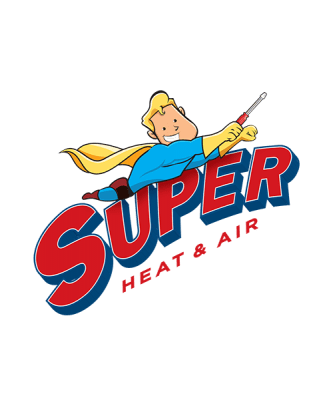 Do you have any other questions you want to ask us? Give us a call and we'll be happy to answer them for you!
No Interest For 60 Months!*
With Approved Credit
Get Super Heat & Air Club Membership
for

Only $29

!
Free UV Light Installed with every Duct Cleaning!
Expires: December 31, 2023
Is your system ready for the cooler weather? Get our 35-Point AC Maintenance Special.
Expires: December 31, 2023
Looking for the best way to sanitize your ducts? Start with our safe and effective duct sanitization service!
Expires: December 31, 2023
Normally priced at $89. This is a 56% discount!
Expires: December 31, 2023
Free Air Quality Estimates
Take the first step toward improving your air quality with our FREE air quality estimate.
Expires: December 31, 2023
$68 Emergency Service Diagnostic
Expires: December 31, 2023
Free UV Light with New Install
Free UV Light with New Install
Expires: December 31, 2023
Free Airflow and Ductwork Inspections
Expires: December 31, 2023
Super Heat & Air Club Membership
2 FREE Annual HVAC Maintenance Services, FREE service calls, and more!
Expires: December 31, 2023
10% Off Flat Rate Duct Cleaning
Expires: December 31, 2023
"Because Super Heroes Don't Take A Day Off!"
We provide round-the-clock services that include the following: