Why Choose Super Heat & Air
What Makes Us Special?
Hey, if you're going to toot your own horn, you should be able to back it up. And we don't want to sound cocky or arrogant here, but there's nothing wrong with enjoying our bragging rights. We've earned our reputation as one of Greater Tampa Bay's most reliable and trustworthy air conditioning companies. And we stand by our service, our people and our commitment to our customers. As any business would and should ask its potential customers, we will go ahead and pose the question ourselves: Why choose us?
Here are some solid reasons why you should pick Super Heat & Air as your air conditioning company:
Great Financing Options
Good air conditioning companies will offer financing options to make AC affordable. And they will back it up with competitive warranties too! Super Heat & Air offers several air conditioning financing options to make a new energy efficient AC system affordable to anyone. And that includes Zero Percent Interest financing options with approved credit. We will work with you to get an AC financing plan that will suit your budget.
So if you think you can't afford a brand new AC system, think again! Ask us about our Zero Percent Interest.
Awesome Specials
Super Heat & Air loves to save customers money. We live in and love Greater Tampa Bay. And we believe nobody in the place we call home should ever have to suffer without air conditioning. Our specials include Zero Percent Interest financing for 5 years on a brand new Rheem high efficiency air conditioner. And our AC financing plans can get you a brand new system for as low as $49 a month!
One of our most popular offers is our signature $29.95 AC maintenance special for first-time customers. That's a $70 savings on regular air conditioner maintenance! HVAC systems need routine maintenance to not only work properly, but to maintain their cooling efficiency. And regular maintenance also improves your indoor air quality, so you can breathe better.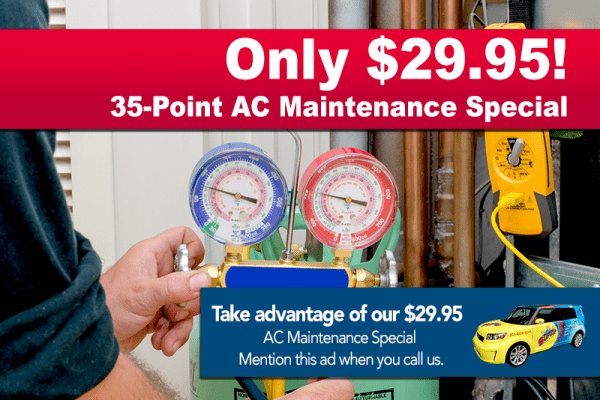 Speaking of indoor air quality, we also offer a $100 discount on our entire home duct cleaning service. Air duct cleaning removes contaminants like pollen and dust out of your HVAC system and sanitizes the air you breathe. We also like to show appreciation to our valued military service members and senior citizens. This is why we offer a 15% seniors and military discount on air conditioning service, which we extend to first responders and medical personnel as well with a valid ID.
Free Service Call with Any Repair
Nobody likes extra fees. And we mean nobody! Which is why Super Heat and air waives all service call fees with any repair. Service call fees are standard fare that most air conditioning companies charge. This exists to cover the cost of a technician coming out to a home to provide a quote for service. But we don't believe you should have to pay that extra fee if you hire us, so we will not charge you for the service call if we repair your AC system!
24 Hour Emergency Service
Unfortunately your AC is not sentient and doesn't care if it's a bad time to break down. So air conditioning problems can and do happen at the most inopportune times. That means any time of day, any day of the year regardless of the weather. And that's why Super Heat & Air works around the clock, on-call 24 hours a day, 7 days a week, 365 days a year!
We provide 24 hour AC service to the Greater Tampa Bay area for any and all kinds of air conditioning repairs. And we have staff on-call to serve you any time of day, any day of the week.
So whether it's emergency air conditioning repair or routine air conditioner service, we will be there for you around the clock. Yes, even at 3 am on a holiday!
No Overtime Charges
As we mentioned, Super Heat & Air will come out to fix your AC system any time. But what we won't do is charge you overtime for any service, ever. Things happen and sometimes a job will take longer than expected. But why should you have to pay extra for it? Unlike other AC companies, we don't believe in tacking on overtime charges. So no matter what the delay, we make sure you won't overpay!
Outstanding Reputation
Super Heat & Air is a reputable, reliable air conditioning repair company. And we only hire experienced HVAC professionals to represent us. We take pride in the reputation we've earned as one of Greater Tampa Bay's best air conditioning companies. From word-of-mouth referrals to online customer reviews, our hard work pays off.
Super Heat & Air takes the time to inform its customers before, during and after hiring us. Our business is driven by hard work, professionalism, honesty and loyalty to the people we serve. And we'll never pressure you into any kind of service. Do your research on us! Read our reviews. Ask around! Take confidence in hiring us: you won't be disappointed!
We Go Above and Beyond
Super Heat & Air primarily services the Greater Tampa Bay area. The counties we cover include Hillsborough, Pinellas, Pasco, Sarasota, Manatee, Charlotte, Hernando and Citrus counties. Our headquarters is in Tampa, but it's not unlikely to spot one of our vehicles way out in Sarasota, Bradenton, Spring Hill or Lakeland. And we have been called upon to go as far as Orlando, Jacksonville, Naples and even Miami. Going above and beyond is not just about the distance we're willing to travel. It's also about the lengths we're willing to go to ensure anybody who does business with us knows they made the right choice!
Make Super Heat & Air your air conditioning company of choice! Call us anytime, 24 hours a day, 7 days a week and find out for yourself why Greater Tampa Bay trusts us!
No Interest For 60 Months!*
With Approved Credit
Get Super Heat & Air Club Membership
for

Only $29

!
$68 Emergency Service Diagnostic
Expires: September 30, 2023
35-Point AC Maintenance Special. Normal Price: $129
Expires: September 30, 2023
$29/mo Super Heat & Air Club Membership
2 FREE Annual HVAC Maintenance Services, FREE service calls, and more!
Expires: September 30, 2023
Free Airflow and Ductwork Inspections
Expires: September 30, 2023
Free UV Light with New Install
Free UV Light with New Install
Expires: September 30, 2023
Warrior Carbon Air Purifiers* 
Expires: September 30, 2023
0% Interest & No Payments for 18 months
On New AC Unit installation
Expires: September 30, 2023
Free Estimate & Free 2nd Opinion
Free Estimate for Any New HVAC Installation
Free 2nd Opinions on Any Competitors Quoted Price!
Expires: September 30, 2023
"Because Super Heroes Don't Take A Day Off!"
We provide round-the-clock services that include the following: