Hurricane Irma Air Conditioning Recovery
Bringing Comfort Back to Collier County Residents
Hurricane Irma struck Florida last year, and she left a path of destruction in her wake. That happened in September, and Collier County was one of the hardest hit areas in Florida. Collier is still recovering from the disaster even today.
Helping Florida Recover
We'll give our friends at SMART Efficient Solutions a mention here. They're still helping homeowners in Collier County and other counties affected by Hurricane Irma recover from the disaster. SMART Efficient Solutions does a great job of helping people in the affected Florida counties with roofing and hurricane damage claim assistance and recovery. Visit their website for more information.
HVAC Help
Super Heat & Air was called upon to help some Collier County residents get their air conditioners working again. You read that correctly. There are people in Collier County still without air conditioning 5 months after Hurricane Irma. It's hard to believe it, but it's true.
The force of the Category 5 Irma was so powerful it knocked out rooftop air conditioning units for an entire apartment complex! So we went down to Naples, Florida last week to help get them back to normal. Super Heat & Air installed 88 air conditioning units to the affected apartment complex. Air conditioning is a necessity, not a luxury. So we brought comfort back to those residents who have spent all of these months without air conditioning.
We Got This
There's no commercial or residential air conditioning job we can't handle. We work beyond Greater Tampa Bay when we're called upon. So if you have a big commercial or residential air conditioning installation job, let us take care of that for you!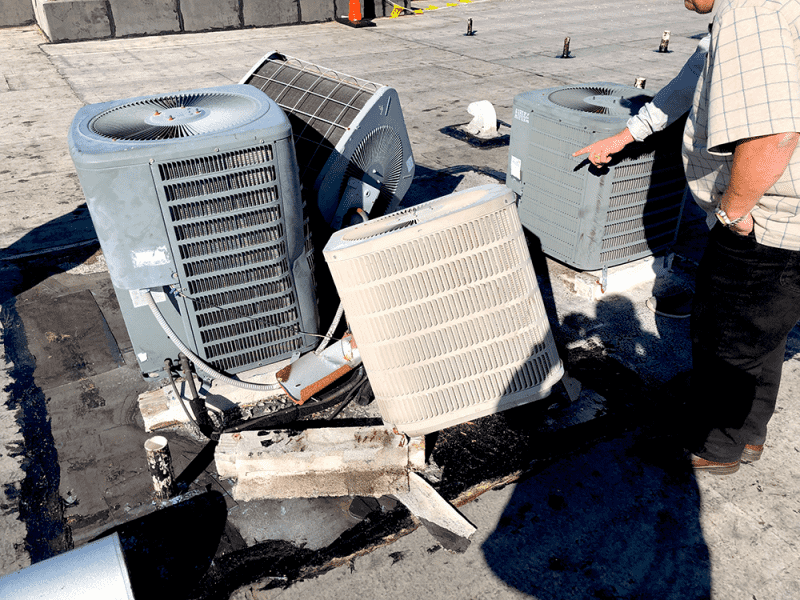 Big or small, we can handle it all! Call us anytime or fill out our contact form to schedule an appointment.
No Interest For 60 Months!*
With Approved Credit
Get Super Heat & Air Club Membership
for

Only $29

!
Add us to your Spring Cleaning List!
With a $39 System Check & Free Duct Work Evaluation
Nest Products & Installation Deal
Get Nest Pro Wifi Phone Video Doorbell & Nest Pro Learning Wifi Thermostat INSTALLED for only $897
$29/mo Super Heat & Air Club Membership
2 FREE Annual HVAC Maintenance Services, FREE service calls, and more!
Warrior Carbon Air Purifiers* 
0% Interest & No Payments for 18 months
On New AC Unit installation
35-Point AC Maintenance Special*
Free Estimate for Any New HVAC Installation
"Because Super Heroes Don't Take A Day Off!"
We provide round-the-clock services that include the following: