Thank You Letter from Happy Customers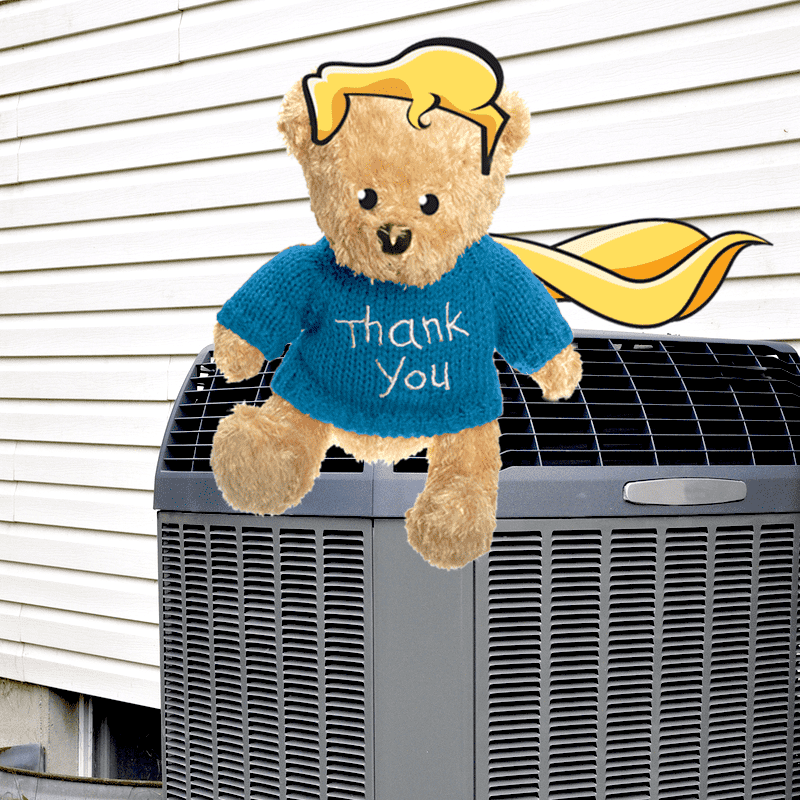 Nothing makes our day more than getting positive feedback from happy customers! We got this fantastic letter in the mail from happy customers Larry and Helen Henning of Lutz, Florida and it definitely made our day!
Dear Mr. Nuhic,

Back in Feb. 2017 we realized our system had a small problem but a friend told us it was not a big issue and could run for another couple of years. However, realizing our system was old, we had contacted your company then and a rep came out and gave us a quote. While we mulled over what to do I would think of a question and would call your rep and he promptly answered it. However, at that time we just decided to wait and see what happened. Like everyone else we hated to spend money until we had to. BAD MISTAKE.

When an air conditioning system quits on a Friday at 4:30 pm on a heat record breaking day, panic and misery set in. Quick, make a call!! We called your company. The lady that took the call said she would have someone (that was "Jose") out within 35 minutes. He arrived when he said he would. After checking out the system he told us what we already suspected and we knew it was time for a whole new system. Jose promptly sat down and began to figure our cost, called you and gave us a quote. While thinking about it I found the quote I had from Feb, and because of a rebate situation offered by the manufacture back then that price was lower. Jose then called you and you authorized him to honor it. The deal was set and the system was scheduled to be installed the next day.

On Sat., April 29th "Blake" arrived ready to put in our new system. He worked all day and into the night to get us air conditioning, saying he wasn't leaving until we were happy and cool. He was so particular about how he installed the equipment, we were really impressed with his expertise and attitude. We know that the equipment is very important to a system but without good installation you have nothing. Special thanks to Blake. 

Bottom line, as you can guess by now, we are extremely happy with our new system, Jose and Blake. Also, thank you Denis, for all your assistance to make this deal possible. All of you were so easy to work with. You did what you said you would, when you said you would, and for what price you said you would. In just a hair over 24 hours we went from a hot house with an old broken down system to a comfortable complete new system. Thank you Super Heat & Air.

We are not singing your praises because we know any of your employees. We have never met you or anyone connected to your company before our first contact in Feb. We were referred to you by a friend in Lutz.

You have a good thing going, keep up the good work and we wish you much success. Please feel free to use us as a reference. We are telling all our friends about our good experience.

Respectfully,

Larry and Helen Henning
A big thank you and a hug to Larry and Helen Henning for this amazing thank you letter. We live and work for this kind of stuff and happy customers are what make our jobs more gratifying than anything else! If you need air conditioning service and want to be our next happy customer, give us a call at (813) 355-0288!
No Interest For 60 Months!*
With Approved Credit
Get Super Heat & Air Club Membership
for

Only $29

!
Free UV Light Installed with every Duct Cleaning!
Expires: December 31, 2023
Is your system ready for the cooler weather? Get our 35-Point AC Maintenance Special.
Expires: December 31, 2023
Looking for the best way to sanitize your ducts? Start with our safe and effective duct sanitization service!
Expires: December 31, 2023
Normally priced at $89. This is a 56% discount!
Expires: December 31, 2023
Free Air Quality Estimates
Take the first step toward improving your air quality with our FREE air quality estimate.
Expires: December 31, 2023
$68 Emergency Service Diagnostic
Expires: December 31, 2023
Free UV Light with New Install
Free UV Light with New Install
Expires: December 31, 2023
Free Airflow and Ductwork Inspections
Expires: December 31, 2023
Super Heat & Air Club Membership
2 FREE Annual HVAC Maintenance Services, FREE service calls, and more!
Expires: December 31, 2023
10% Off Flat Rate Duct Cleaning
Expires: December 31, 2023
"Because Super Heroes Don't Take A Day Off!"
We provide round-the-clock services that include the following: