End of Summer AC Maintenance
"Weather" or Not You Want to Believe It
The end of summer is here and you're thinking things will start cooling down, right? Well, yes and no. If you've lived in Greater Tampa Bay long enough to watch the seasons change, you know that not much changes regarding the temperature.
It's true that when Fall Season hits here, things start to cool down a bit. But it doesn't mean we're getting consistently cool weather. In fact, Greater Tampa Bay is no stranger to hot fall and winter seasons. Yes, we do get the nice chilly weather once in awhile. And yes, we use fire pits occasionally during the cold seasons (which we sometimes get cheated out of). But recent disappointingly hot winters and autumns tell us that you will likely still be running your air conditioner regularly into December and beyond. Even though Florida's autumn is not monumentally colder than summer or spring, we have had some cold ones in the past and will likely have more to come.
Here are some things to keep in mind for your air conditioner as the post-summer season begins:
More Time to Prepare
Having AC maintenance done after summer ends is the best time to get your AC prepared for the next hot season. After a long hot Florida summer in which your AC system has been working overtime, an HVAC maintenance checkup is ideal to keep your system at peak performance.
While air conditioning companies like (who else?) Super Heat & Air are busy all year long, in a state like Florida the heating season is not nearly as busy as the cooling season. In other words, Floridians may not have to use their air conditioners as often after the end of summer. But having to use the heater in a place like Greater Tampa Bay is sometimes a rare treat. So when it comes to getting maintenance done on your AC system, the end of summer is the best time to do it.
Because you may not have to work your air conditioner as hard or as often during fall and winter, it gives you plenty of time to get your AC system a tune-up. Don't wait until the hot months for something to break down! You REALLY don't want your AC to break down in the middle of summer in Florida! So by getting the maintenance done during the cooler season, you may not have to worry about emergencies when you need your AC the most.
More Time to Shop
If you're considering buying a new AC system because the one you have is old and worn out, planning and researching during the cooler months is the ideal time. Heat and desperation can force you into a rush decision without considering your best options. So if your old AC dies during the hot months, you're more likely to make too quick a decision and buy the first thing an HVAC system dealer sells you.
HVAC technology has evolved significantly since you bought your last AC system. So by not waiting for your old AC system to break down in the middle of summer, you get time to research the most cost-efficient and energy efficient options available for your budget.
Feel the Heat
If your AC system has a heater and that thing didn't get maintenance during the hot months, it could die on you when you do actually need it to work! If that heat pump is not up to speed, you could end up paying a hefty price tag on your heating bills. Or even worse, for a replacement heat pump when you need it. Having AC maintenance done right after the end of summer will ensure that your heat pump is ready when that cold weather unexpectedly hits.
Fall Into Fall
Stuff starts to fall off trees during the fall. So the end of summer is a good time to start checking the surroundings of your outdoor air conditioning unit. Remember that falling debris can do some serious damage to your AC unit. Do a little landscaping in your yard to protect your HVAC system from falling objects. Obstructions in your outdoor unit can seriously mess it up. So now is a good time to trim up grass and tree branches near your unit. Also, make sure it's covered if there are surrounding trees that shed debris from their branches.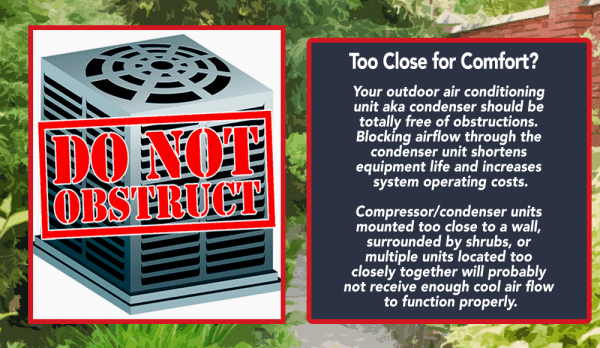 Fall into Maintenance
We know, it's kind of redundant to add this section after you've read this far and we've pretty much been telling you this whole time to do some maintenance on your HVAC system. But we can't stress this enough: schedule a maintenance check immediately after summer ends! Air conditioner maintenance should be done at least twice a year. So if you haven't had it done once this year, that's pretty bad. If you already had maintenance done once earlier in the year, the end of summer is the best time to get that second one done!
Remember, this is Florida. You've been working your system hard all summer long and will probably still be working it well into the winter if we get cheated out of another cold season, so get it done!
Don't let overpriced AC maintenance services get in the way! If you want AC maintenance done right, give Super Heat & Air a call today!
No Interest For 60 Months!*
With Approved Credit
Get Super Heat & Air Club Membership
for

Only $29

!
$68 Emergency Service Diagnostic
Expires: September 30, 2023
35-Point AC Maintenance Special. Normal Price: $129
Expires: September 30, 2023
$29/mo Super Heat & Air Club Membership
2 FREE Annual HVAC Maintenance Services, FREE service calls, and more!
Expires: September 30, 2023
Free Airflow and Ductwork Inspections
Expires: September 30, 2023
Free UV Light with New Install
Free UV Light with New Install
Expires: September 30, 2023
Warrior Carbon Air Purifiers* 
Expires: September 30, 2023
0% Interest & No Payments for 18 months
On New AC Unit installation
Expires: September 30, 2023
Free Estimate & Free 2nd Opinion
Free Estimate for Any New HVAC Installation
Free 2nd Opinions on Any Competitors Quoted Price!
Expires: September 30, 2023
"Because Super Heroes Don't Take A Day Off!"
We provide round-the-clock services that include the following: