Cinco de Mayo fun Facts: A "Mayo" Misunderstanding
Cinco de Mayo is one of America's favorite holidays. But like St. Patrick's Day, it's also one of the most misunderstood.
Everybody loves an excuse to have a party and celebrate a culture that may or may not be their own. But some of the facts about the Cinco de Mayo holiday may surprise you:
It's NOT Mexico's Independence Day
Mexico's Independence Day is celebrated on September 16 and not in May! Cinco de Mayo is actually a celebration of Mexico's victory in the May 5, 1862 battle in Puebla during the Franco-Mexican war. Seeing as the Mexicans were seriously outnumbered against the French during this battle, the significance of the victory brings a sense of pride to the country and is the actual reason for celebrating the holiday. The Mexicans won that battle, but the French won the war.
It's NOT big in Mexico
Mexico's Independence Day on September 16 is a much bigger holiday for Mexicans than Cinco de Mayo. But just like St. Patrick's Day, Americans make a bigger deal out of Cinco de Mayo than Mexicans do! It's not even a federal holiday in Mexico. And it's only a major holiday in Puebla, Veracruz and in the United States. In fact, the world's largest Cinco de Mayo celebrations are held in Los Angeles, California, which every year attracts hundreds of thousands of people to its Fiesta Broadway festival.
Cinco de Guaco
What would a Cinco de Mayo celebration be without some guacamole dip? Guacamole, which is essentially an avocado puree, is a staple of many favorite Mexican dishes. And Americans love it! According to the California Avocado Commission, Americans consume up to 81 million pounds of avocados on Cinco de Mayo every year.
¡Más Tequila!
Cinco de Mayo should be less about drinking and more about history. But like other popular drinking holidays, it's now most commonly associated with Corona beer and tequila. It's unfortunate that the historical and cultural significance of the holiday over the years has become more commonly associated with non-Mexicans wearing silly sombreros and fake mustaches while drinking themselves silly. The way the holiday is celebrated can be viewed as culturally insensitive or even offensive. But there's no denying the positive economic impact it has for the restaurant and bar industry.
Tequila brands rejoice on Cinco de Mayo, which is pretty much the best day of sales for the tequila industry in the United States. And that's because Americans drink a lot more tequila than Mexicans: about 80% more! Then there's Corona, the marketing genius of a beer brand that capitalized heavily on the "Mexican heritage" of the holiday. Thanks to the brilliance of its advertising campaigns over the last few decades, Corona has become THE beer most commonly associated with Cinco de Mayo. The saddest part about this is that Corona — the 5th best-selling beer in the United States — is not really even a Mexican beer!
HVAC de Mayo
We're not here to take the fun out of Cinco de Mayo! If you've been paying attention to us, you know we love our holidays! We also love Greater Tampa Bay! So we ask that our customers, friends and family have a safe and happy Cinco de Mayo celebration!
No Super Heat & Air blog post is complete without a typical "wink wink" shameless plug. So if you come home from a hot fiesta on May 5 and your AC is not cooling, call us and we'll fix it for you!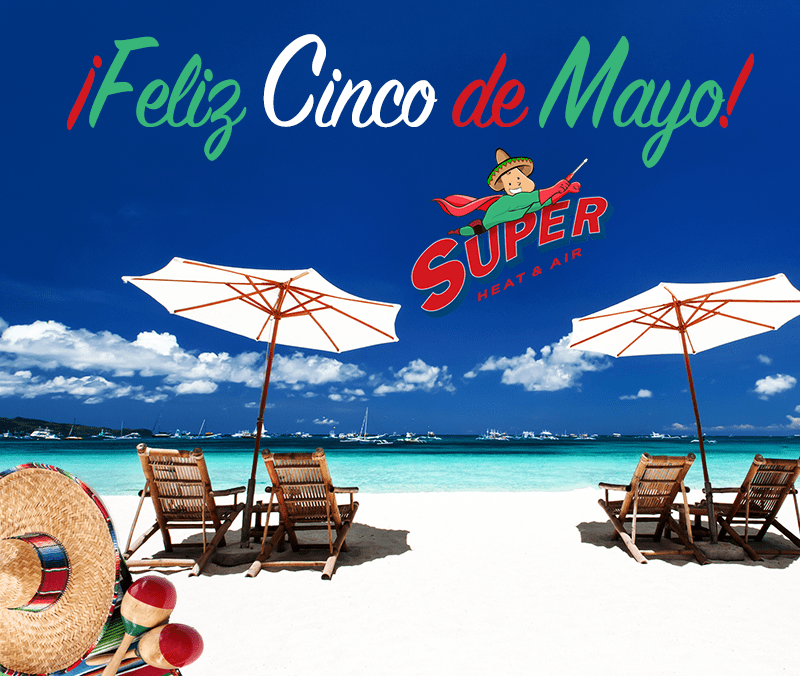 No Interest For 60 Months!*
With Approved Credit
Get Super Heat & Air Club Membership
for

Only $29

!
$68 Emergency Service Diagnostic
Expires: September 30, 2023
35-Point AC Maintenance Special. Normal Price: $129
Expires: September 30, 2023
$29/mo Super Heat & Air Club Membership
2 FREE Annual HVAC Maintenance Services, FREE service calls, and more!
Expires: September 30, 2023
Free Airflow and Ductwork Inspections
Expires: September 30, 2023
Free UV Light with New Install
Free UV Light with New Install
Expires: September 30, 2023
Warrior Carbon Air Purifiers* 
Expires: September 30, 2023
0% Interest & No Payments for 18 months
On New AC Unit installation
Expires: September 30, 2023
Free Estimate & Free 2nd Opinion
Free Estimate for Any New HVAC Installation
Free 2nd Opinions on Any Competitors Quoted Price!
Expires: September 30, 2023
"Because Super Heroes Don't Take A Day Off!"
We provide round-the-clock services that include the following: